PHOENIX STAFFORD FIREPLACE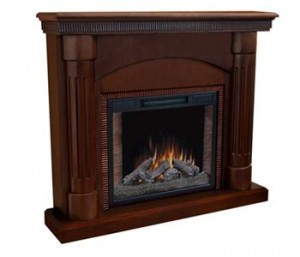 Price:
$589.00
Item Number:

HT-FP3204
Manufacturer:
Fireplace Gateway
Dimensions:
Width : 50″
Height : 46″
Depth : 18″
The Stafford is a magnificent fireplace designed with the grand room in mind. Impressive block post and pillar design compliments the high arch fascia. Deep dentil moldings deliver impressive detail to the mantel top. Shown finished in espresso
In addition to the classic styling of the mantle features, the firebox insert also has several important features that will be sure to enhance your enjoyment of this product.
Scent Center ™
This easy to use fold down door opens to accept standard air freshener inserts. These inserts, which are widely available at most retail outlets, work in concert with the heater/fan assembly of the firebox insert to add a subtle aroma to your living space.
Hidden Controls
One benefit of an electric fireplace is that it can mimich the look of a wood or gas fireplace much more simply and cost effectively. We have taken this into account and designed the product to hide the controls to remove that "electric" look from our firebox inserts.
Recessed Handles
Injection moulded handles are recessed in to the side of the firebox insert to allow for easy lifting and moving of the insert into and out of the mantle.
Remote Control
This full function remote control provides a readout of the ambient room temperature and displays the temperature that you set the fireplace to. Simply set the desired temperature and the firebox insert will cycle on and off to maintain this temperature. The remote control also includes a convenient on/off button for the integrated LED Highlights ™.The ambiance and heat of your fireplace are now accessible at the touch of a button.
The heater portion of the firebox insert can be set to either a "high" or "low" setting. The adjustable thermostat allows you to maintain a consistent room temperature by cycling the heat on and off as needed. This allows you to set the temperature to a desired level and also saves on energy costs as the heater is not operating all of the time. Even when the heater cycles "off", the fan will continue to circulate air in the room.
Adjustable flame control
Adjustable thermostat allows the heater to cycle on/off to maintain comfortable room temperature
2 x 750W heaters
4862 BTUs
Width 50″
Height 46″
Depth 18″
It is a free standing unit can be placed against any flat wall.
There is no venting required, allowing a custom made unit to be constructed against any wall in the home
Regular 110v electrical outlet needed. Indoor use only.
Shipping Information
At the moment we are offering Free Shipping on all of our products our products The free shipping offer is only for the for the lower 48 US states only, if you are in any other area call 1 305 830 9430 or 1 800 901 6450 or e-mail sales@fireplacesites.com for a quote.
Our products ship within 2 to 4 business days. You will usually receive your fireplace in 7 to 10 business days
Soon after placing your order, you will receive an email to let you know we have received it, if you have paid using Paypal or Google Checkout you will also receive an e-mail from them confirming your payment.

Depending on the size and weight of the item, we either ship with Fedex Ground or for larger items we use LTL. You will be sent an email when your item is shipped from the warehouse with tracking information

Check the item when it is delivered for damage. Should your item be damaged, be sure to make a note on the driver's delivery sheet